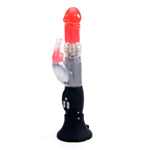 You know, God really has a sense of humor. I totally believe it.
As some of you followers may know, it's been almost 9 weeks since Mr.X punched me in the chest and threw me and my two boys out of the house. There has been no sex for this chick for a WHILE!
I hate to admit it, but the sex with Mr.X was not the best I have ever had, but I was totally smitten with Mr.X so it didn't seem as important but.........
Girls, if you are dating a guy who 'wants it' less than you do from day ONE, RUN FOR YOUR LIVES!!!
On THAT note...I have won a very
special contest
Tenakim was having!
I won $65 from
Eden Fantasys
!!
Now...what do I want?? I have a purple JackRabbit I got in New Orleans, the Blue Bullet... I will let Mr.X keep that one, it's really his.
So what shall it be??? Any suggestions???